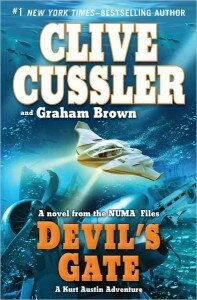 Devil's Gate: A Kurt Austin Adventure (NUMA Files Series)
Written with #1 New York Times bestselling author Clive Cussler
November 14, 2011
ISBN-13: 9780399157820
ISBN: 0399157824
"The most breathtakingly suspenseful, wildly inventive, enjoyable thriller in the 'NUMA Files' series to date!" – Library Journal
Click to Buy Devil's Gate Now!
A Japanese cargo ship cruises the eastern Atlantic near the Azores- when it bursts into flames. A gang of pirates speeds to take advantage of the disaster-when their boat explodes. What is happening in this part of the world?
As Kurt Austin, Joe Zavala, and the rest of the NUMA Special Assignments Team rush to investigate, they find themselves drawn into the extraordinary ambitions of an African dictator, the creation of a weapon of almost mythical power, and an unimaginably audacious plan to extort the world's major nations. The penalty for refusal? The destruction of their greatest cities.
Devil's Gate is a best seller, debuting on the New York Times at #5 and the USA Today at #12.